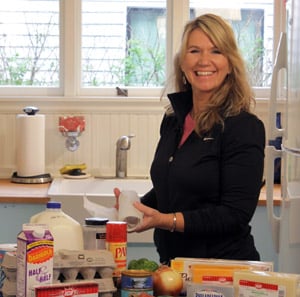 Come back each week
to try a different recipe
from one of my cookbooks.
Recipe of the Week:
Summertime Salmon Bruschetta
Page 66 of Salmon, Desserts & Friends
Makes 2 dozen
These bruschettas can be prepped hours in advance and refrigerated, but are quick enough to make and serve in 15 minutes. The smoked salmon brings rich deep flavor, making a memorable appetizer.
Ingredients
1 cup tomato, seeded and diced
1 cup cucumber, seeded and diced
½ cup yellow bell pepper, diced
1 teaspoon grated lemon zest
2 tablespoons lemon juice
2 teaspoons capers
1 clove garlic, minced
½ teaspoon salt
¼ teaspoon black pepper
1 pound smoked salmon, skin and pin bones removed
1 baguette
In a medium bowl combine tomato, cucumber, bell pepper, lemon zest (grated lemon peel), lemon juice, capers, garlic, salt and pepper; cover and refrigerate.
Meanwhile, slice baguette into ¼-inch slices and toast in a 325˚F. oven for 7 to 10 minutes.
Drain liquid from tomato mixture. Spoon 1-tablespoon tomato mixture on top of each toasted baguette round. Place a slice of smoked salmon on top.