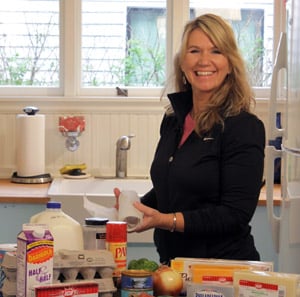 Come back each week
to try a different recipe
from one of my cookbooks.
Recipe of the Week:
Baked Mediterranean Salmon Casserole
Page 88 of Salmon, Desserts & Friends
Makes 4 servings
An enticing combination of salmon, egg noodles, garlic, portabella mushrooms and artichoke hearts. The perfect weeknight recipe, that is a snap to prepare. Serve with crusty bread and a green salad.
Ingredients
6 ounces egg noodles, cook al dente
3 tablespoons butter
½ red bell pepper, diced
2 cloves garlic, minced
¾ cup portabella or cremini mushrooms, sliced
1 (7-ounce) jar artichoke hearts, sliced
⅛ cup all-purpose flour
1 cup milk
1 cup heavy cream
2 (6-to 7-ounce) cans salmon, drained
3 green onions, thinly sliced
¾ cup Parmesan cheese, freshly grated
¾ cup panko bread crumbs
1 teaspoon Italian seasoning
salt and freshly ground black pepper
nonstick cooking spray
Preheat the oven to 350°F.
Melt the butter in a large saucepan over medium heat. Add the bell pepper, garlic and the mushrooms, sauté until soft. Stir in the artichoke hearts and the flour and cook for 1 minute. Pour in the milk and the heavy cream. Stir over low heat until the sauce thickens, about 5 minutes. Season to taste with salt and pepper. Remove from heat.
In a large bowl, combine the egg noodles, salmon, green onions, ½ -cup Parmesan cheese and the sauce mixture. Spray a 10-inch round casserole dish with nonstick cooking spray. Add noodle mixture and top with the bread crumbs, Italian seasoning and ¼ cup Parmesan cheese. Bake for 20 minutes or until bubbly and golden.