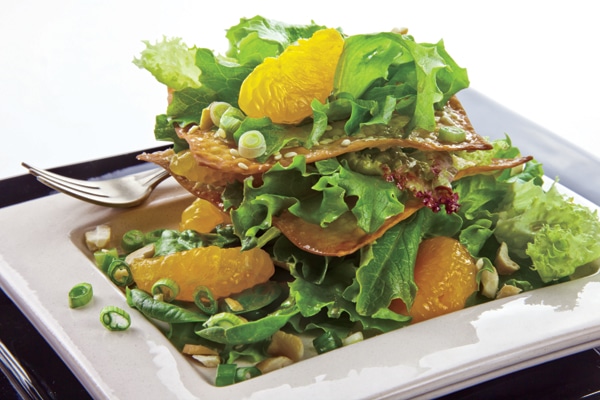 Impress your family and friends by serving this fashionable Crispy Sesame Salad Stack with Orange-Soy Vinaigrette. Easy enough to prepare during the week and add charm to any special occasion. Make an extra batch of sesame won ton crisps to munch on or to top with your favorite cheese spread for a tasty snack.
Ingredients
orange-soy vinaigrette:
¼ cup rice vinegar
¼ cup orange juice
2 tablespoons extra-virgin olive oil
1 tablespoon low-sodium soy sauce
2 tablespoons light brown sugar
1 teaspoon freshly grated ginger
¼ teaspoon ground mustard
sea salt and freshly ground black pepper to taste
sesame won ton crisps:
12 won ton wrappers (look for them next to the egg roll wrappers and tofu)
1 tablespoon melted butter
1 tablespoon white sesame seeds
1 teaspoon sea salt
salad stack:
1 (8-ounce) package mixed salad greens, thoroughly washed
1 (15-ounce) can mandarin oranges, drained
2 green onions, sliced
6 tablespoons cashews, chopped
Directions
make the vinaigrette:
Whisk ¼ cup rice vinegar and next 6 ingredients together in a small bowl until smooth. Season with salt and pepper to taste.
make the won ton crisps:
Preheat your oven to 400 degrees. Place won ton wrappers on an ungreased baking sheet. Brush 1 side of each wrapper with melted butter, sprinkle with sesame seeds and salt. Bake 5 to 6 minutes or until golden brown.
make the salad:
Layer ½ cup salad greens, 1 sesame won ton crisp, salad greens, 1 sesame won ton crisp and a few mandarin orange segments into the salad greens. Repeat procedure with remaining salad greens, won ton crisps and orange segments. Sprinkle with green onions and cashews. Drizzle with Orange-Soy Vinaigrette. Sprinkle with salt and pepper to taste. Serve immediately.
Serves 6
Recipe hint
Won ton wrappers are fresh pasta sheets that are traditionally stuffed and steamed, boiled, fried or baked. While working with the wrappers, cover the ones you aren't using with a damp towel to keep them moist because they dry out easily. Freeze unused wrappers for up to two months.
©Copyright My Tiny Alaskan Oven