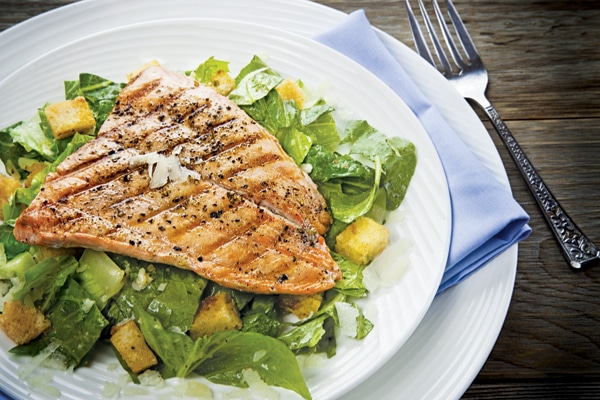 Whatever its true origins, we're just happy we don't have to go to a restaurant to satisfy our craving for the crunchy, cheesy goodness of a Grilled Salmon Caesar salad!
Ingredients
for the croutons:
3 ½-inch thick slices French bread, crust removed and cut into ¾-inch cubes
1 tablespoon extra-virgin olive oil
2 tablespoons butter, melted
3 tablespoons Parmesan cheese, grated
2 large garlic cloves, minced
for the Caesar dressing:
2 large garlic cloves
3 anchovy fillets
½ teaspoon lemon juice
½ teaspoon Dijon mustard
½ teaspoon Worcestershire sauce
2 teaspoons mayonnaise
⅛ teaspoon sea salt, or as needed
¼ teaspoon freshly ground black pepper
¼ cup extra-virgin olive oil
for the salad
1 large head romaine lettuce, washed, dried and torn into pieces
½ cup Parmesan cheese, grated
freshly ground black pepper
for the salmon:
4 (6-ounce) wild salmon fillets, skin and pin bones removed
extra-virgin olive oil for grilling
sea salt
freshly ground black pepper
Directions
make the croutons:
Preheat your oven to 350 degrees. In a large bowl; combine the olive oil and butter. Stir in Parmesan cheese and garlic. Add bread cubes and toss until coated. Spread the bread in a single layer on a shallow rimmed baking sheet and sprinkle with a little salt. Bake about 15 minutes or until croutons are golden, stirring once. Set aside.
make the dressing:
In a blender, combine the garlic, anchovies, lemon juice, mustard, Worcestershire sauce, mayonnaise, salt and pepper. Mix until well combined. Add oil and blend until smooth.
make the salad:
In a large salad bowl, combine lettuce and croutons. Pour dressing over lettuce mixture; toss lightly to coat. Add ¼ cup of the Parmesan and toss well.
make the salmon:
Preheat a grill or stove-top grill pan to medium-high heat and lightly oil the grates. Season the fillets with salt and pepper. Grill the fillets skinned side up and cook 3 to 5 minutes. Turn fillets over and grill until fish is just cooked through, about 3 minutes more.
Divide Caesar dressing among four plates and top with a salmon fillet. Garnish with Parmesan and serve.
Serves 4
Variations
Use 2 cups purchased croutons. Substitute grilled halibut for the salmon.
©Copyright My Tiny Alaskan Oven