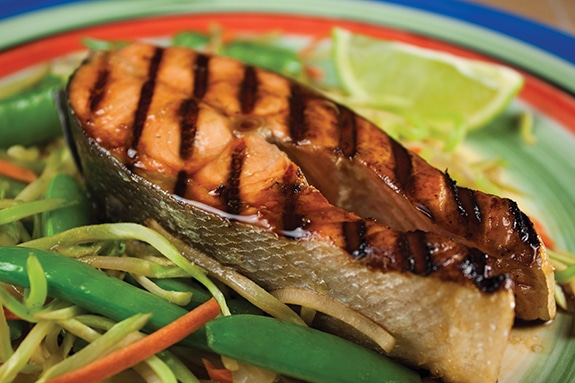 Every summer I come up with one new preparation for salmon that is simple and incredibly versatile. This go-to recipe for Soy Maple Glaze Grilled Salmon Steaks will amaze you and your guests will praise you!
Ingredients
¼ cup soy sauce
3 tablespoons maple syrup
3 tablespoons sesame oil
4 (6-ounce) wild salmon steaks
2 inch piece of fresh ginger, peeled and thinly sliced
2 cloves garlic, minced
2 green onions, thinly sliced
Directions
In a large shallow dish, whisk the soy sauce with the maple syrup and sesame oil. Add the salmon steaks and turn to coat. Press ginger and garlic onto both sides of steaks. Cover and refrigerate for 1 hour, turning the salmon a few times.
Preheat a grill or stove-top grill pan to medium-high heat and lightly oil the grates. Remove the salmon from the marinade. Pour the marinade into a small saucepan and boil over high heat until syrupy, about 3 minutes. Strain the glaze into a small bowl.
For good marks, place the salmon steaks at a 45° angle to grates. Cook the steaks 3 minutes. Carefully give them a quarter-turn (45°) and grill 2 minutes.
Turn steaks over and grill until just cooked through, about 3 or 4 minutes more.
To serve, transfer to warmed plates and spoon glaze on top. Sprinkle with green onions and serve.
Makes 4 servings
©Copyright Salmon, Desserts & Friends