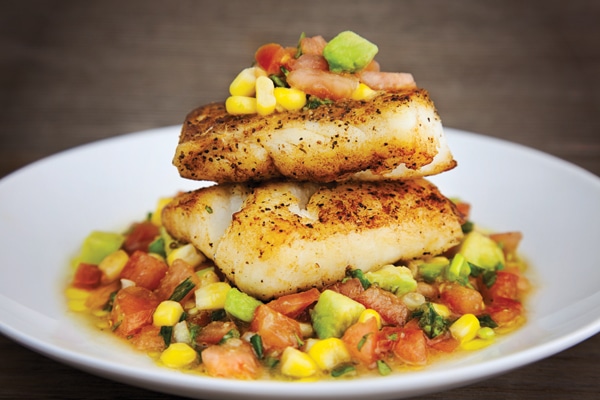 A few thoughts before you get started on the salsa for this Sauteed Snapper with Fresh Avocado Salsa. Make sure the tomatoes you use for this dish are nice and hard, with no hint of ripening. Look for avocados that are ripe but still firm‒the ones on which the stem at the end still wiggles. And finally, this salsa can be made up to a day ahead, though the fresher it is, the brighter it will be.
Ingredients
for the salsa:
2 medium tomatoes, seeded and diced
1 avocado, pit removed and diced
juice of ½ lime
3 green onions, sliced
½ cup kernel corn, drained
¼ cup fresh basil leaves, minced
2 tablespoons extra-virgin olive oil
2 garlic cloves, minced
1 teaspoon honey
¼ teaspoon ground cumin
sea salt and freshly ground black pepper
for the snapper:
4 (6-ounce) snapper fillets, skin and pin bones removed
1 tablespoon butter
1 tablespoon extra-virgin olive oil
sea salt and freshly ground black pepper
fresh basil, minced
Directions
make the salsa:
Gently combine the diced tomatoes and the remaining salsa ingredients in a medium bowl, folding with a wooden spoon to prevent breaking the avocados; season to taste.
make the snapper:
Rinse the fillets carefully, pat dry with paper towels. Season the fish on both sides with salt and pepper. Heat a large nonstick skillet over medium-high heat. Add the butter and oil. Place the fish in a single layer in the pan. Cook 3 minutes on each side or until fish flakes easily when tested with a fork. Serve immediately with a generous serving of salsa and a sprinkling of basil.
Serves 4
Variation
Substitute cod, flounder or halibut.
©Copyright My Tiny Alaskan Oven