Salmon may seem an odd breakfast choice, but try it! Packed with Omega-3 fatty acids (brain booster!), salmon is rich in antioxidants and selenium. The protein will keep you full and energized for hours.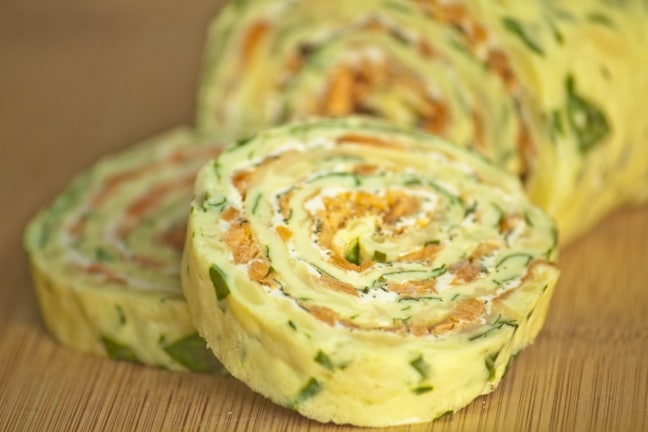 Smoked Salmon & Watercress Roulade
You will need
1/3 cup freshly grated Parmesan cheese
1 1/2 cups watercress, roughly chopped, plus a few extra
leaves to garnish
3 green onions, sliced
6 eggs
1/2 tsp. salt
1/4 tsp. black pepper
3/4 cup shredded Swiss or Gruyere cheese
8 oz. cream cheese, divided use, at room temperature
2 tsp. dill weed
1 (7-ounce) can smoked salmon, drained
Preheat oven to 375 degrees.
Line a large rimmed baking sheet with parchment paper and lightly spray with non stick cooking spray.
Sprinkle grated Parmesan cheese onto the parchment paper.
With an electric mixer; beat 4 ounces of the softened cream cheese until smooth. Beat in the eggs. Stir in the chopped watercress, sliced green onions, the Swiss or Gruyere cheese, salt and pepper. Stir well.
Spoon mixture into the prepared pan and ease into the corners. Bake for 10 to 12 minutes until it is well risen, golden and the top feels spongy.
Remove roulade from oven. Let cool in pan for at least 30 minutes.
When cool, flip roulade over and onto a long piece of plastic wrap. Remove parchment paper. Spread remaining softened cream cheese over entire roulade. Crumble smoked salmon over the cream cheese. Sprinkle on the dill. Carefully roll up the roulade, starting from the shortest side nearest you. Wrap in plastic wrap. Place in the refrigerator for at least 30 minutes.
To serve, place roulade on a serving platter, then cut into thick slices and serve garnished with a few watercress leaves, if desired.
Serves 4-6
Enjoy!