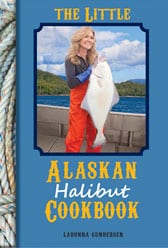 Praise for ​The Little Alaskan Halibut Cookbook
" The ​Little Alaskan Halibut Cookbook​ is yet another extraordinary culinary and artistic addition to this Ketchikan couple's outstanding body of work. LaDonna's recipes using Alaska's favorite flatfish are creative, fun, easy to follow and absolutely delicious. ​Ole's Alaska photos, as always, are a delightful addition, but his exquisite food photos are guaranteed to make you salivate. All the dishes look oh-so-tasty. Mmm, I can't wait to try all of these recipes!"​                                            – Ray Troll, Soho Coho Art Gallery.
The Little Alaskan Halibut Cookbook by LaDonna Gundersen Hitting Shelves Soon!
Ketchikan, Alaska – April 27, 2017 – Alaska fisherwoman and author LaDonna Gundersen's latest book ​The Little Alaskan Halibut Cookbook will be available May 6, 2017.
With four seafood cookbooks under her belt, Gundersen's latest collection is about wild Alaskan halibut. The 85-page hardcover ($9.95) includes 41 recipes created and vetted in the galley of ​LaDonna Rose their 32-foot commercial fishing vessel. It also includes 28 full-color mouth-watering food photos, as well as, photographs of Southeast Alaska taken by Ole, Gundersen's fisherman husband.  Over the years, Gundersen has learned the ins and outs of cooking in a 4 x 7 boat galley and the result are creative, simple and delicious recipes. ​
"The promise I try and keep with my recipes are simple, no fancy equipment or hard-to-find ingredients," said LaDonna Gundersen. "I take pride in the fact, that anyone can make them, whether you're a five-star chef or a first timer. All are a delicious addition to a cook's repertoire of recipes."  In the book, you'll find classic and simple suppers including Halibut and Chips, Bacon-Wrapped Halibut, and Roasted Halibut Cheeks in Lemon Butter Sauce. On the grill dishes like Barbecued Halibut with Sundried Tomato-Basil Pesto, Grilled Haliburgers, and Grilled Halibut with Fresh Strawberry Salsa. Hearty main courses that you'll want to serve at dinner parties like Halibut and Brie in a Puff Pastry, Halibut Enchiladas, and Halibut with Coconut-Curry and Bok Choy. And, a handful of tempting sweets like Apple Crumb Bars, French Coconut Pie, and Heavenly Key Lime Pie.
In addition, there is information about wild-caught Alaskan halibut including its life at sea, responsible management, and versatility in the kitchen, from the Alaska Seafood Marketing Institute as well as the health benefits of eating halibut and the history of Alaska Natives fishing for halibut using halibut hooks.  The Little Alaskan Halibut Cookbook
​
By LaDonna Gundersen, LaDonna Rose Publishing, May 2017, 85 pages Price: $9.95 hardcover, ISBN: 9781578336623
About LaDonna and Ole Gundersen For thirty years, the couple has spent their summers on their commercial fishing boat. ​As chief deck hand and galley cook, LaDonna has had plenty of experience preparing and cooking meals in the boat's galley. On her website, she shares a selection of recipes and also hosts Ketchikan's KPU TV ​Celebrity Chef with LaDonna.​
Recent accolades include a Master Chef Class at the National Hospitality Institute in Muscat, Oman, as well as a Fisherman to Fisherman Cultural Exchange. In December 2016, ​Edible Alaska Magazine ​featured the Dungeness Crab and Corn Chowder recipe, and in March 2017, the Alaska Seafood Marketing Institute #eatalaska campaign featured the Fresh Rolls with Smoked Salmon and Basil recipe.