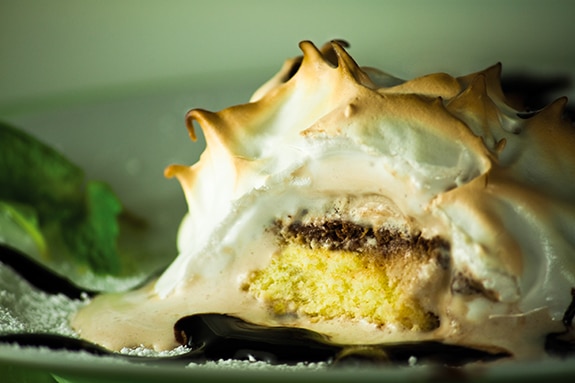 The secret to this wonder is in its construction. Cake and ice cream are frozen together, then covered with meringue. The meringue acts as insulation, protecting the ice cream from the heat. The cake acts as a buffer from below and shields the ice cream. Baked Alaska is truly a unique treat. Your family will love it!
Ingredients
8 ounces semi sweet chocolate, broken into pieces
1 cup heavy cream
1 purchased pound cake, (about 14 oz.)
6 tablespoons coffee liqueur, (or 4 Tbl. strong coffee)
1 quart coffee ice cream
muffin pan
muffin liners
chill baking sheet in the freezer
for the meringue
6 egg whites, room temperature
½ teaspoon cream of tartar
⅛ teaspoon salt
1 cup sugar
1 teaspoon vanilla extract
Directions
Heat chocolate and cream in a heavy small saucepan. Whisk over low heat until mixture is smooth. Chill 30 minutes until spreadable. Reserve extra ganache (icing) for plating.
Line muffin pan with muffin liners or pieces of plastic wrap, leaving overhang.
Prepare the pound cake, slicing it horizontally into four layers. Cut rounds from each layer; matching the size of your muffin pan openings.
Press ¼ cup ice cream into the lined muffin tin. Leave ½ inch space on top for the cake round. Pour 1 teaspoon liqueur (or 2 teaspoons coffee) onto each round, then spread with 2 tablespoons ganache. Place a cake round on top of the ice cream, ganache side down. Cover the pan tightly with plastic wrap and freeze until firm, at least 4 hours.
the meringue:
Beat egg whites in a mixing bowl until foamy. Add cream of tartar and salt.
Beat at medium-high speed until the whites hold a soft peak. Beat in the vanilla. Gradually add the sugar 1 tablespoon at a time. Continue beating until stiff glossy peaks form. (The meringue needs to be sturdy to form "insulation" and keep the ice cream from melting).
To assemble:
Line the frozen sheet pan with parchment paper. Place the Alaskas on the parchment, cake side down. Quickly, remove the cupcake liners from the frozen ice cream. Generously cover each Alaska with 1 cup of meringue, spreading to form cloud-like swirls. Be sure the meringue reaches the parchment, creating a barrier so the ice cream doesn't leak. Place in freezer until ready to bake.
To bake:
preheat the oven to 500°F. Take Alaskas directly from the freezer to the oven with rack in the top third. Bake 2 to 3 minutes just until the tips are lightly browned. If a little ice cream leaks, don't worry about it. Carefully transfer
Alaskas to chilled plates. Spoon warm ganache around dessert and serve.
Makes 12 servings
Note:
The name Baked Alaska originated at Delmonico's Restaurant in New York City in 1876 and was created in honor of the newly acquired territory of Alaska.
February 1st is Baked Alaska Day.
Preparation Tips:
Assembling Alaskas ahead (as little as a day or up to a week) insures the ice cream is frozen solid. This is important so it can withstand the heat. A Jumbo muffin pan, custard cups and ramekins (small ceramic bowls) also work great for forming individual portions. Line it with pieces of plastic wrap.
©Copyright Salmon, Desserts & Friends