Because Alaska is fish country and salmon is probably the world's most heart healthy source of protein.  Wild caught salmon swim naturally and grow freely in the pristine icy clear waters off Alaska's rugged coastline.  They feed on their natural diet of marine organisms, giving them a superior flavor and texture that is prized by the whole world.  Effective state and federal regulations manage fisheries that are productive and sustainable, clean and healthy.  Alaska is the only State in the nation whose Constitution explicitly mandates that all fish, including salmon, shall be utilized, developed and maintained on the sustainable yield principle.  Alaska's waters are the cleanest in the world and has strict regulations governing development activities.  Clean marine habitats produce pure seafood products.
Wild salmon is rich in long-chain Omega-3 essential fatty acids – the most beneficial kind – which studies show to protect heart health, inhibit inflammation in joints, decrease body fat, stabilizes blood sugar levels, acts as a natural anti-depressent, increases feelings of well being, and…the part I love…keeps the skin young, supple, radiant and wrinkle free.  The Omega-3s provide nourishment to hair follicles helping hair grow healthy and the high protein content of salmon helps to maintain strong, healthy hair and nails.  More on that at a later date.  Salmon is low in calories and is one of the healthiest fish available for consumption.  Some of the health benefits are just now being discovered on the leading edge of science and nutrition.    
Alaska salmon are free of antibiotics, pesticides, growth hormones and artificial coloring agents.  These salmon are among the purest fish you will find anywhere.
I once heard salmon being referred to as  "Steak of the Sea"  because it is one of the heartiest fish you can eat.  Wild caught Alaska salmon taste good and is good for you.
Youv'e heard all about those miraculous Omega-3 fatty acids.  You've read studies which detail how eating it on a regular basis can reduce your levels of bad cholesterol and aid in boosting your immune system.  You don't eat the dreaded farmed raised salmon.  So, the question is, have you started eating more Wild salmon?
What if you are a busy mother with two children, no four children who wishes they did eat more salmon, but simply are just too busy?  Here comes canned salmon to the rescue!
Canned salmon is the perfect treat, allows you to serve wild salmon year round and has all the nutrients as salmon fillets and salmon steaks.  It's the perfect solution for a busy household.  It's a no brainer, because it's easy to prepare, healthy, tasty and good for our environment.  Canned salmon is a healthy food choice your whole family will love.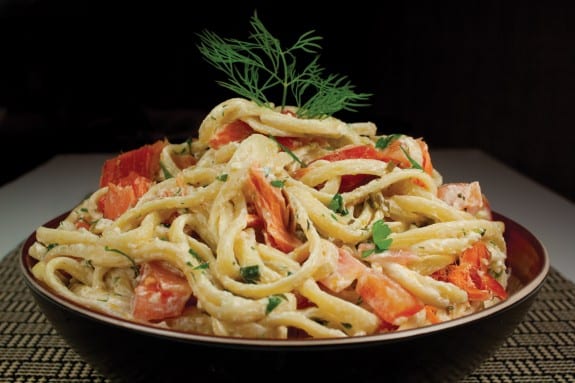 You won't have a problem adding salmon to your diet, since there are hundreds of ways to enjoy this healthy super-food. Try it grilled, baked, in your pasta, with a salad, in a soup, or simply open a jar or can with a side of blueberries.
What is your go to Wild caught salmon recipe?
Best Fishes!  LaDonna Rose