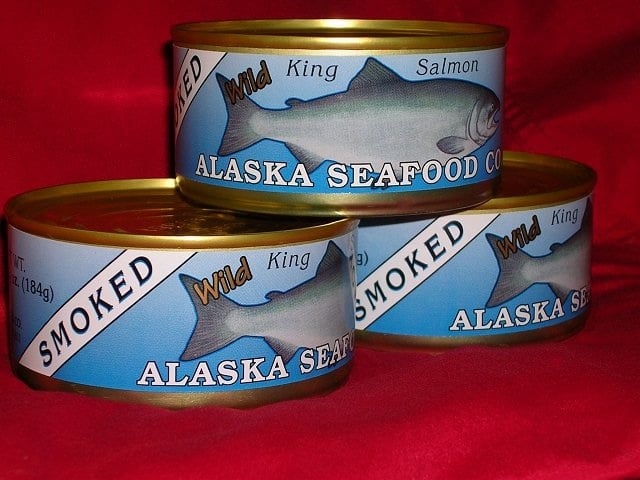 How do I determine how old my can of salmon is?
Look at the code that is either embossed onto the lid or printed onto the bottom of the can. The third digit in the top row of numbers and letters is the year it was canned. For example, 343TP would have been canned in 2003, 365TS would have been canned in 2005, etc. Some companies are now printing an expiration date on all products to make this process easier.
What is the shelf life of canned salmon?
Canned salmon is a very shelf-stable item. Quality will remain good for at least 6 years, however the actual shelf life can be much longer, provided that the integrity of the can is not compromised. The flavor may diminish after that length of storage time. Once you have opened the can make sure the leftovers are properly covered, refrigerated and consumed shortly after. Once opened canned salmon can be stored in a refrigerator for about three days if it has been properly wrapped. It is also possible to freeze canned salmon in a zip-lock or other type of freezer bag for consumption within a few months (just remember to dethaw it). As with most perishable food products canned salmon should not be left for long time periods at room temperature.
What species of salmon are canned? Why is Red Sockeye salmon more expensive than Pink, Chum and Coho Salmon? What are the differences between them?
Pink and Chum Salmon are available in greater numbers than Red Sockeye or Coho salmon, making them lesser in cost. Red Sockeye salmon is known for its deeper red color, firmer texture, and higher oil content. Coho or Silver salmon may also be known as Medium Red salmon. It is a softer texture than Red salmon and has a light medium red color. Pink Salmon is more delicately flavored and lighter in color. Chum salmon, also known as Keta salmon, is also lighter in color but usually has a firmer texture than Pink. All species are considered healthy sources of nutrition, such as Omega-3 fatty acids, and may be used interchangeably in most recipes.
How can I tell if my canned salmon is wild salmon or farmed salmon?
Most of the canned salmon found in supermarkets across North America is sourced from wild salmon fisheries. However, there are a few companies that may use farmed salmon in their cans. One of the best indicators of whether your salmon is sourced from the wild or from a fish farm is by looking at the labeling on the can. Many companies will indicate directly on the can that their salmon is wild caught. In addition, it may be helpful to know a little bit about the company and whether it has any corporate principles that prohibit them from using salmon caught from salmon farms. If the can is not properly labeled or vague you may want to pass. Alaska does not allow salmon farms, so when you see the lid that says "Alaska Salmon USA", you can rest assured that these fish were not farm raised.
Why does canned salmon sometimes have glass looking crystals in it?
Every so often some people may find and be curious what the glass-like crystals are in canned salmon. These are called struvite crystals and might be mistaken by a consumer for a shard of glass. A variety of canned seafood products sometimes contain these naturally made crystals. Struvite crystals are formed after the salmon has been put in the can and are made of magnesium ammonium phosphate. They have a hardness compared to table salt and can be crushed into a powder with your finger. They dissolve in water and in your stomach.
What are Omega-3 Fatty Acids?
Omega-3 fatty acids are long chain fatty acids (DHA and EPA) that are known for their health benefits. The American Heart Association recommends eating at least 2 servings of fish a week to protect your heart, particularly fish that are known to contain high levels of Omega-3 fatty acids, such as salmon.
Canned salmon is an excellent source of Omega-3 fatty acids.
Our good friend Linda at Chinook and Company in Ketchikan is a wonderful source for canned salmon.
www.chinookandcompany.com