The hardest part about transitioning to living aboard has been learning to cook in a small space, and with a diesel burning oven. Really, I should show you my space. Maybe once I get it all clean! But the upside is, it's so small that even when it's dirty, it cleans up really quick.
So how do I manage to cook in my boat's tiny galley and turn out meals that I'm accustomed to eating?
Let's start with telling you what my galley kitchen space is like on the boat.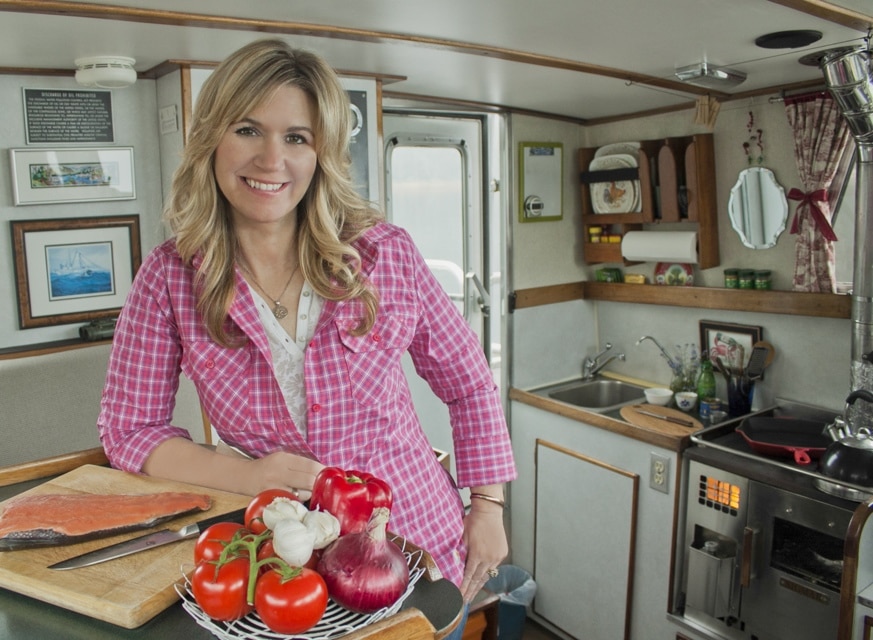 The boat is 32 feet long and 14 feet wide, but my galley measures 4 feet long by 5 feet wide. My counter space measures a total of 3 square feet. My galley is sorta triangle shape.
It includes a small foot and a half wide by 2 1/2 foot tall fridge and a freezer that is 5 inches tall by 11 inches wide and 1 foot deep. It maybe small, but boy can it pack and sure beats storing condiments in an ice chest.
I cook all our meals on a diesel burning oil stove that uses the same fuel as our main engine. The top of the stove measures 18 inches by 21 inches. It has an oven with a side opening windowed door. It measures 11 inches wide by 12 inches deep. An 11 x 7 pan fits perfect in my easy bake oven. I have a sink that measures 9 1/2 inches deep by 14 long and 10 inches wide. It comes complete with hot water as long as the engine is running.
Cooking in a small space takes thought and planning.
Good food and desserts is a fun and essential part of boating. Whether you are going out on your boat for a weekend, a week, a month or a year, someone has to plan what you are going to eat, shop for it, store it, fix it, serve it, and then figure out what to do with the trash.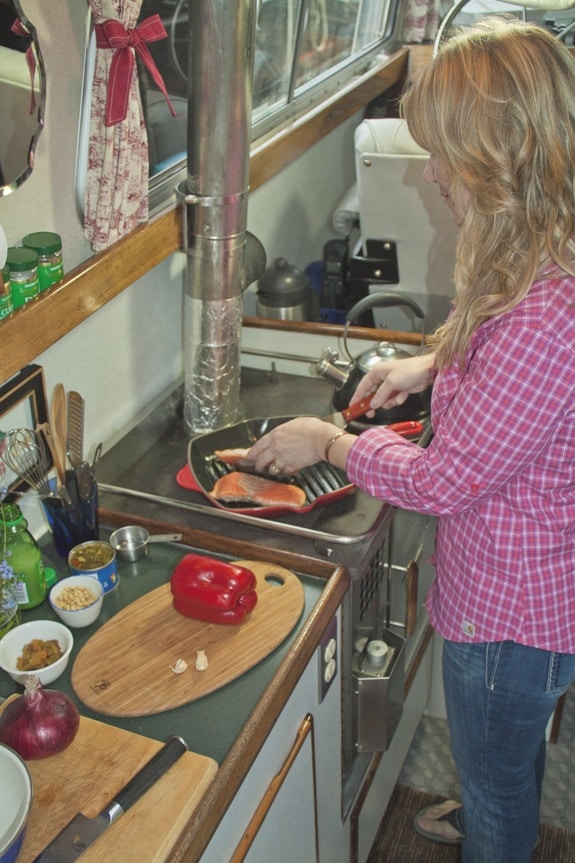 One of my favorite things has always been cooking, and I thought I'd go nuts on board with my normal style, so I have adjusted to a more relaxed style: Less things on the plate, higher-quality ingredients (when available), and great flavors. We eat as healthy as possible and most always from scratch. With basic ingredients onboard, you can make anything you want and with a couple of cookbooks that use everyday ingredients, can give you a lot of confidence.
One of the challenges with small space cooking is to learn to have multi-function items including basic food ingredients. A can opener that also has a bottle opener on it, I've used a wine bottle many a time for a rolling pin.
Basic ingredients that can be used for a lot of different recipes is what inspired my first cookbook Alaskan Rock'n Galley. 200 recipes that give simple ways to keep your grip in the galley. Catch, prepare and present from a tiny space, real food that would not be ashamed to have come from a gourmet kitchen many times the size. If you can cook these delicious recipes in a galley, you can cook them anywhere. They are simple and gourmet, a perfect combination for the homemaker.
Cooking real food from scratch also leads us to eating better and we feel better.
On hot days, I try and use the stove as little as possible. In fact, some days we just turn it off. I then turn to the grill, eat up our leftovers and make quick cold foods. When it is cold and raining out as long as the weather is cooperating, I make soups, stews and bake up a storm. We eat good when it's cold out while staying warm!
I do however believe in a few good kitchen tools, because it makes a huge difference how I feel cooking on the boat all summer. I recently bought a raspberry colored mini food processor. Just looking at it makes me smile! I have a couple of good knives that are the workhorses in my galley kitchen.
I also don't give space to things that take up too much room. As the groceries are going on board, I throw away all the cereal boxes. I use a permanent marker and mark what is in the package. I use small and large zip bags to store leftovers in my refrigerator. Containers take up too much room.
Yes there are many challenges cooking in a Rock'n Galley, but without the challenges there is no adventure.
It's really not all that bad once you get the hang of it.
Here's a scrumptious recipe from Alaskan Rock'n Galley cookbook you are sure to enjoy!
Chicken with Caramelized Apples
4 chicken breasts, boneless, skinless
1/3 c. all-purpose flour
1/4 tsp. salt
1/8 tsp. black pepper
1/4 c. butter
3 apples, peeled, cut into 1/2-inch thick wedges
1 Tbl. lemon juice
3 Tbl. pancake syrup
Place chicken between 2 pieces of plastic wrap; with flat side of a meat mallet, pound to flatten chicken to 1/2 inch. Place flour on a small plate, add salt and pepper.
Dip chicken in flour, shaking off excess.
Melt butter in a large skillet over medium heat. Add chicken; cook 5-6 minutes or until no longer pink, turning once. Place on platter; cover loosely with foil.
Add the apples to the same skillet; cook 2-3 minutes without stirring or until lightly caramelized. Stir the apples; cook one more minute. Stir in lemon juice. Add pancake syrup; stir to combine. Serve sauce and apples over chicken.
Serves 4.