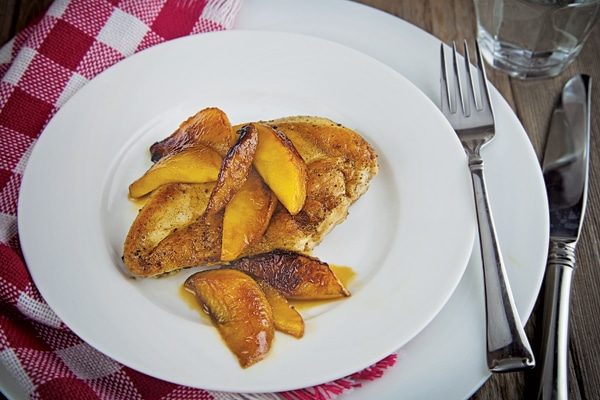 This is such a fabulous way to cook chicken and so simple. Caramelized Chicken with Apples is quick enough for a midweek meal and fancy enough to serve to special company.
Ingredients
4 chicken breasts, skinless and boneless
⅓ cup all-purpose flour
½ teaspoon sea salt
¼ teaspoon ground black pepper
¼ cup butter
3 apples, peeled, cored and cut into ½-inch slices
1 tablespoon lemon juice
3 tablespoons maple syrup or pancake syrup
Directions
Place chicken between two pieces of plastic wrap; with flat side of meat mallet, pound to flatten chicken to ½-inch thick.
Place flour on a small plate, add salt and pepper. Dip chicken in flour, shaking off excess. Melt butter in a large nonstick skillet over medium heat. Add chicken; cook 5 to 6 minutes or until no longer pink, turning once. Place on platter; cover loosely with foil.
Add the apples to the same skillet, cook 2 to 3 minutes without stirring or until lightly caramelized. Stir apples, cook 1 more minute. Stir in the lemon juice. Add the maple syrup, stirring to combine. Serve sauce and apples over chicken.
Serves 4
Roasted Cauliflower
Ingredients
1 medium head cauliflower
2 tablespoons extra-virgin olive oil
¼ teaspoon sea salt
Directions
Preheat your oven to 400 degrees.
Toss cauliflower with oil and salt in a large bowl. Spread in 1 layer on a large rimmed baking sheet and roast, stirring and turning occasionally, until tender and golden brown, 25-30 minutes.
©Copyright My Tiny Alaskan Oven