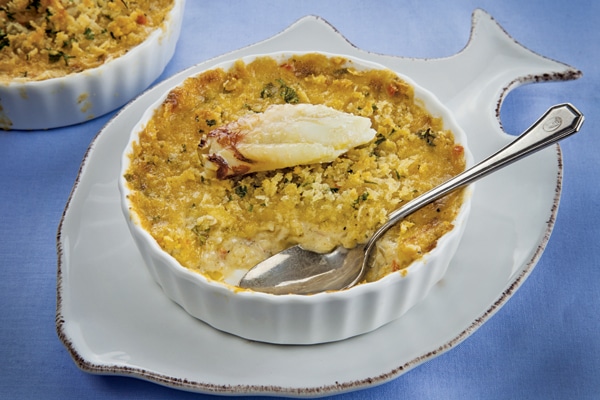 Being an Alaskan fisherman I have had my share of Crab Imperial. I have also experimented with making them. I love this recipe for Crab Imperial with Red Pepper because you can taste the crab. Ole calls this dish crab pudding and requests it all the time. It's creamy, decadent and will be enjoyed by the entire family.
Ingredients
½ cup (1 stick) butter, divided (melt 3 Tbls. for topping)
3 tablespoons all-purpose flour
2 cups heavy cream
1 cup Panko bread crumbs, divided
½ cup red bell pepper, diced
¼ cup onion, finely diced
4 tablespoons fresh parsley, minced and divided
2 tablespoons sherry cooking wine
2 tablespoons lemon juice
1 tablespoon grated lemon zest
1½ teaspoons Worcestershire sauce
1 teaspoon paprika, divided
1 teaspoon ground mustard
½ teaspoon hot chili sauce
2 cups fresh Dungeness crabmeat (about 2 crab, cooked and cleaned)
¾ teaspoon sea salt
¼ teaspoon ground black pepper
toasted baguette slices, for serving
Directions
Preheat your oven to 375 degrees.
In a large nonstick saucepan over medium heat, melt 5 tablespoons butter. Whisk in the flour. While whisking, slowly pour in the cream.
Whisk until the mixture is thick and bubbly and coats the back of a spoon. Remove from heat and stir in ½ cup of the bread crumbs, the bell pepper, onion, 2 tablespoons parsley, wine, lemon juice, zest, Worcestershire, ½ teaspoon paprika, mustard, chili sauce and crab meat. Season with salt and pepper.
Divide mixture evenly among six 6-ounce oven-proof baking dishes (or four 1-cup); place on a rimmed baking sheet and set aside.
In a small bowl, mix remaining 3 tablespoons melted butter, ½ cup bread crumbs, ½ teaspoon paprika and ½ teaspoon parsley. Sprinkle evenly over each baking dish. Bake until lightly browned and bubbling in the center, about 20 minutes. Serve hot with baguette toasts.
serves 4-6
©Copyright My Tiny Alaskan Oven