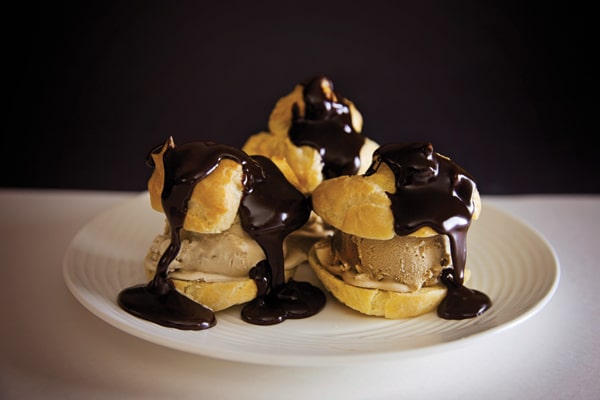 Sometimes a recipe is so very exquisite, so very delicious, that you just have to cook it for friends. This Cream Puffs with Coffee Ice Cream is that sort of recipe.
Ingredients
for the puffs:
1 quart coffee ice cream
½ cup (1 stick) unsalted butter, cut into pieces, plus more for baking sheets
1 cup water
¼ teaspoon sea salt
1 cup all-purpose flour
4 large eggs, lightly beaten
for the chocolate sauce:
½ cup granulated sugar
1 cup heavy cream
7 ounces 60%-cocoa bittersweet chocolate, finely chopped
½ teaspoon vanilla extract
Directions
make the cream puffs: Chill a small metal baking pan in the freezer. Form 24 ice cream balls (2-3 tablespoons each) and freeze at least 1 hour (this will make assembling it faster).
Preheat your oven to 425 degrees with racks in upper and lower thirds. Line two large rimmed baking sheets with parchment paper.
Bring butter, water and salt to a boil in a 2-quart heavy saucepan, stirring until butter is melted. Reduce heat to medium, add flour and cook, beating with a wooden spoon, until mixture pulls away from the sides of pan and forms a ball, about 30 seconds. Remove from heat and cool 1 minute. Add eggs 1 at a time, beating well with an electric mixer after each addition.
Drop heaping tablespoons of batter onto baking sheets (you should have 24-28), about 2-inches apart. Bake, rotating sheets between racks halfway through, until puffed and brown, about 20-25 minutes. Remove from oven; (turn off oven). Prick each puff once with a skewer, then return to oven to dry, with door propped open, for 10 minutes.
fill the puffs: When cool, halve each puff horizontally, then fill each with a ball of ice cream. Arrange 3 filled puffs on each plate and drizzle generously with warm chocolate sauce. Serve immediately.
make the chocolate sauce:
Heat sugar in a 2-quart saucepan over medium heat, stirring with a fork to heat sugar evenly, until it starts to melt, swirling pan occasionally so sugar melts and is dark amber. Remove from heat, add cream and a pinch of salt. Return to medium-low heat and cook until caramel has dissolved. Remove from heat and add chocolate, whisking until melted; whisk in vanilla. Keep warm.
Recipe hint:
The ice cream balls can be frozen up to a day. The puffs can be baked 1 day ahead and cooled completely, then kept in an airtight container. The chocolate sauce is perfect for chocolate covered strawberries.
Serves 8 (three puffs each)
©Copyright My Tiny Alaskan Oven