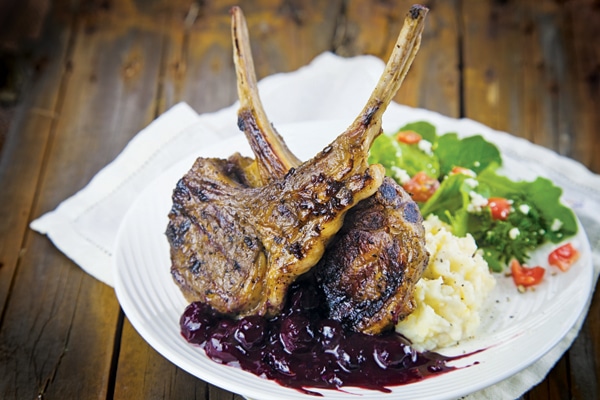 If elegant is what you're after, these Grilled Lamb Chops with Blueberry-Rosemary Sauce are the way to go. They make any dinner an occasion. Lamb chops are a sure sign of a fancy affair. But that doesn't mean they're hard to prepare or should be saved for special occasions. Actually, lamb chops can't be beat in the summer as they cook quickly and are perfect for grilling. If you've never purchased lamb chops before, it can get confusing. So here's what you need to know. There are two types of lamb chops available–rib and loin chops. If you're looking for the show-stopper with the long bone, buy rib chops. The loin chop is a tiny t-bone steak containing meat from both the tenderloin and the short loin. Be sure to let the lamb rest after it's grilled. If it's sliced too soon, the juices will be lost, causing the meat to become dry.
Ingredients
for the sauce:
1 tablespoon extra-virgin olive oil
½ cup onion, chopped
2 cloves garlic, minced
1 cup blueberries
¼ cup ketchup
3 tablespoons sherry vinegar
2 tablespoons honey
1 tablespoon Dijon mustard
2 teaspoons fresh rosemary, minced
1 teaspoon hot chili sauce
¼ teaspoon sea salt
Directions
for the lamb:
8 lamb rib or loin chops, trimmed, seasoned with sea salt and freshly ground black pepper
make the sauce:
In a small saucepan heat olive oil over medium heat. Add onion and garlic; cook and stir for 2 minutes until soft. Stir in remaining sauce ingredients. Bring to a boil; reduce heat and simmer uncovered, about 10 minutes or until desired consistency.
make the lamb:
Preheat grill or grill pan over medium-high heat; when hot, reduce to medium and coat with nonstick spray.
Brush lamb chops with sauce on one side and then grill in batches of 4 chops, glazed side down, 8 to 10 minutes per side for medium-rare. Glaze again, flip and grill the other side. Let chops rest 5 minutes before serving.
Serve with Blueberry-Rosemary sauce.
makes 8
©Copyright My Tiny Alaskan Oven