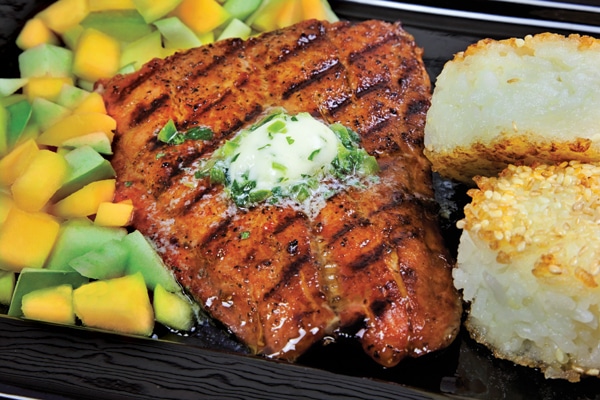 Most of the time, "dressing up" foods with fancy preparations and sauces just masks flavors. But curing fresh salmon with sugar and salt, then grilling it in a sweet-spicy glaze really enhances an already great tasting fish in this Grilled Salmon with Cherry-Chipotle Glaze. The chipotle chile glaze has some kick, but the cherry preserves in it helps tone down the "fire." And it doesn't stop there! Cilantro-Lime Butter finishes the dish easily‒and with style.
Ingredients
4 (6-ounce) wild salmon fillets, skin and pin bones removed
¼ cup light brown sugar
1 teaspoon sea salt
1 teaspoon ground black pepper
for the glaze:
¼ cup cherry preserves
¼ cup ketchup
⅛ cup chipotle chiles in adobo
½ teaspoon fresh thyme
¼ teaspoon ground cumin
juice of ½ lime
salt to taste
1½ tablespoons extra-virgin olive oil
jalapeno-lime butter:
½ cup (1 stick) salted butter, room temperature
1 tablespoon fresh cilantro, minced
1 tablespoon jalapeño, seeded, minced
juice of ½ lime
Combine all ingredients in a small bowl using a rubber spatula. Roll flavored butter in plastic wrap and chill until firm.
mango-apple salad:
1 mango, peeled, diced
1 Granny Smith apple, diced
juice of 1 lime
fresh cilantro, chopped, optional
Combine and set aside.
Directions
Rub salmon fillets with brown sugar, salt and pepper and place on a baking sheet lined with parchment paper. Cover and chill for 30-60 minutes.
make the glaze: In a food processor or blender, purée the preserves, ketchup, chiles, seasonings, lime juice and oil until smooth. Set aside.
Pat the fillets dry with paper towels. Spread about a tablespoon of glaze over each fillet and marinate for 15 minutes (reserve the remaining glaze for serving).
Preheat grill or stove-top grill pan to medium-high; oil the grates lightly when hot. Wipe off some of the glaze and grill skinned side up at a 45˚ angle to grates. Cook 3-5 minutes, turn fillets and grill until fish is just cooked through, about 3 or 4 minutes more.
Serve the salmon with Jalapeño-Lime Butter, reserved glaze, Mango-Apple Salad and Sesame Rice Cakes.
Serves 4
Sesame Rice Cakes
These are fun to make and serve along side your main dish.
Ingredients
3 cups "cooked" jasmine rice, cooled to room temperature (or cold)
1 tablespoon granulated sugar
1 tablespoon rice vinegar
1 tablespoon cornstarch
1 tablespoon sea salt
¼ cup sesame seeds
2-4 tablespoons extra-virgin olive oil
Directions
Combine rice, sugar, vinegar, cornstarch and salt. Scoop and press rice into a ¼-cup measuring cup coated with nonstick cooking spray. Tap cake out onto a parchment-paper lined baking sheet. Gently press sesame seeds on the tops of each cake. Heat 2 Tbls. oil in a large skillet over medium-high heat. Add rice cakes, seed side down and sauté 5 minutes on each side or until rice is golden. Add additional oil as needed to prevent burning.
Makes 8 cakes
©Copyright My Tiny Alaskan Oven