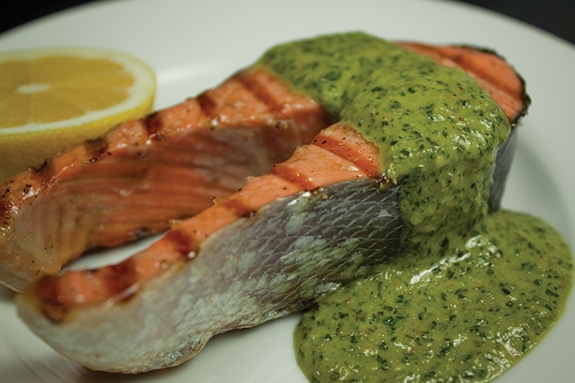 Swirling reduced fresh cream in herb pesto creates a delicate sauce for this Grilled Salmon with Creamed Pesto Sauce.
Ingredients
4 (6-ounce) wild salmon steaks
1 cup heavy cream
olive oil for grilling
salt and freshly ground black pepper
for the basil pesto:
2 cups fresh basil
1 cup fresh Italian parsley
½ cup Parmesan or Romano cheese, grated
½ cup pine nuts, toasted
4 cloves garlic, roughly chopped
¼ teaspoon salt
⅛ teaspoon red pepper flakes
½ cup olive oil
1 tablespoon lemon juice
2 tablespoons water
Directions
the pesto:
Combine all ingredients in a food processor or blender. Puree until the mixture forms a smooth, thick paste. Combine 2 cups of the basil pesto and cream in a saucepan. Bring to a simmer and adjust consistency as necessary with additional pesto; season to taste.
the salmon:
Preheat a grill or stove-top grill pan to medium-high heat and lightly oil the grates. Season the salmon steaks with salt and pepper; lightly coat with oil. Cook the salmon on both sides until fish flakes easily when tested with a fork.
To serve, spoon the sauce on a warmed plate and place the salmon on top.
Serves 4
Note:
Salmon are perhaps the most visually striking of the world's fish. Sleek and silvery, a buttery and succulent flesh. Salmon is the ocean's great natural delicacy. It's neither red-fleshed nor white, making it an exceptionally accommodating wine companion. Depending on the preparation, salmon dishes can be paired with a spectrum of wines including Champagne, Chardonnay and Pinot Noir.
Pesto Variation:
Ginger- Lemon Pesto: Make a regular pesto, adding 1 teaspoon lemon zest (grated lemon peel) and 2 teaspoons finely grated ginger. This pesto is perfect on sautéed fish.
©Copyright Salmon, Desserts & Friends