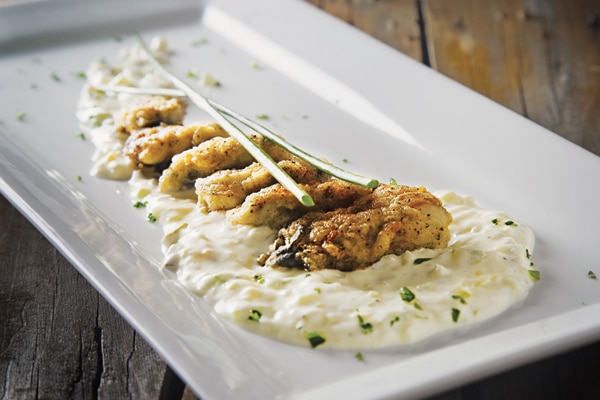 Ole loves the intense flavor of oysters and like most fishermen, he adores anything fried. These Pan-Fried Oysters with Tartar Sauce are hands-down the best pan fried oysters I have ever made. You might want to double the recipe, you'll be wishing you had more!
Ingredients
for the tartar sauce:
2 cups mayonnaise
⅓ cup celery, minced
⅓ cup onion, minced
2 tablespoons lemon juice
1 tablespoon Worcestershire sauce
pinch sea salt
pinch ground mustard
pinch ground black pepper
2 tablespoons dill pickle relish
for the oysters:
2 dozen shucked oysters, drained well
⅓ cup all-purpose flour
1 teaspoon sea salt
1 teaspoon ground black pepper
¼ cup extra-virgin olive oil
lemon wedges
Directions
make the tartar sauce:
Combine all ingredients and mix well.
make the oysters:
Season the flour with salt and pepper and coat the oysters well, shaking off the excess.
Heat the oil in a 10 to 12-inch sauté pan, just until it begins to smoke. If the oil is too hot, the oysters will burn. If the oil is too cool, the oysters will be soggy.
Slip the floured oysters into the hot oil and shake a little to keep them separated. Pan-fry for 1 to 2 minutes, turn and fry 1 to 2 minutes on the other side. The oysters should be crisp and golden brown on both sides. Remove oysters with a slotted spoon or spatula and drain on paper towels. Serve the oysters with lemon wedges and tartar sauce.
Serves 2-4 as a starter
Recipe hint
When possible, buy local shucked oysters. Oysters are also available at most grocery stores in the seafood department in 10-ounce jars. The jars indicate whether the oysters are extra small, small or medium.
©Copyright My Tiny Alaskan Oven