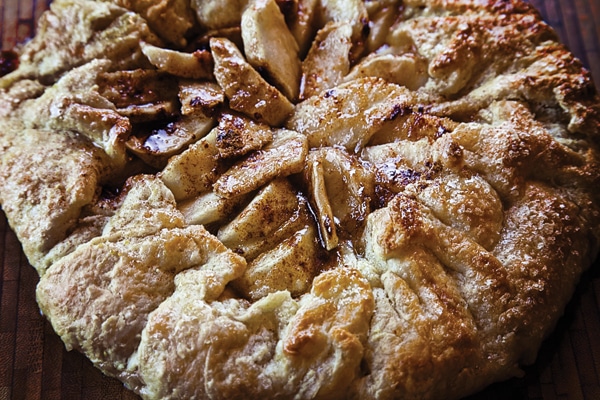 I love the simplicity of this dessert and it reminds me of home, warmth and love. Rustic Apple-Maple Galette is so simple to prepare and never fails to impress friends and family.
Ingredients
for the galette dough:
3 tablespoons sour cream
⅓ cup cold water
1 cup all-purpose flour
¼ cup yellow cornmeal
1 teaspoon granulated sugar
½ teaspoon sea salt
7 tablespoons cold unsalted butter, cut into pats
for the filling:
3 to 4 apples, peeled, cored, halved and sliced crosswise into ¼-inch-thick slices (about 3 cups)
2 tablespoons lemon juice
3 tablespoon light brown sugar
3 tablespoons maple syrup, divided
1 teaspoon ground cinnamon
3 tablespoons all-purpose flour, plus extra for rolling
1 tablespoon butter, diced
egg wash:
1 egg yolk mixed with 1 teaspoon
water
2 tablespoons raw sugar
Directions
make the dough:
Whisk the sour cream and cold water together in a small bowl, set aside. Mix the flour, cornmeal, sugar and salt in a bowl. Using a pastry blender, blend in butter until the mixture resembles small peas. Drizzle evenly with the sour cream mixture and gently stir until incorporated. Dough should be soft and moist. Remove the dough from the bowl and press into a disk. Wrap in plastic wrap and refrigerate for thirty minutes.
make the filling:
Toss apples with the lemon juice, brown sugar, maple syrup, cinnamon and flour.
Preheat your oven to 400 degrees. Unwrap dough and place on a 16-inch piece of parchment paper that has been dusted with flour. Roll dough into a 14-inch circle. Place dough and parchment on a rimmed baking sheet, (dough will hang over the parchment) arrange apples in center, leaving a 2-inch border around the edges. Dot apples with butter. Fold the edges of the crust over the fruit, pleating the dough as you go and leaving the center exposed. Brush the outside edges with egg wash and sprinkle with raw sugar. Bake for 45 minutes or until crust is golden, filling is bubbly and apples are tender. Cut into wedges and serve.
Serves 4-6
Filling ideas
To be honest, you could pretty much use anything with a galette, as long as it's not too much liquid. Here are some ideas: plums, pears, peaches or nectarines.
Variations
Wow your dinner guests with simple, bite-size pastries. Serve each slice with a scoop of vanilla ice cream. Substitute one 9-inch unbaked pie crust.
©Copyright My Tiny Alaskan Oven