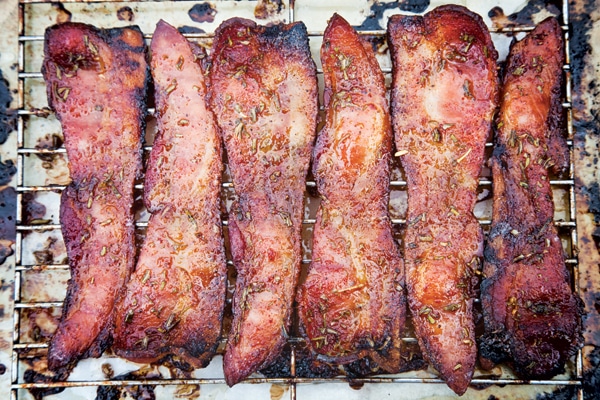 It's hard to imagine making bacon even better, but we've done it. As the slices sizzle in the oven, brown sugar and a hint of cayenne and rosemary create an addictive sweet-hot glaze on this Sweet-and-Spicy Bacon.
Ingredients
4 tablespoons light brown sugar
¼ teaspoon ground cayenne
2 teaspoons fresh rosemary, chopped
¼ teaspoon ground black pepper
1 lb. quality thick-cut bacon (about 16 slices)
Directions
Preheat your oven to 350 degrees. Line two rimmed baking sheets with parchment paper; place a wire rack on top of each sheet. Arrange bacon slices in a single layer on the two racks. Evenly sprinkle with brown sugar, cayenne, rosemary and black pepper. Bake until bacon is crisp and browned, rotating sheets halfway through, 30 to 35 minutes. Pat dry with paper towels.
Serves 8
Variation
Use regular package bacon, with shorter cooking times.
©Copyright My Tiny Alaskan Oven