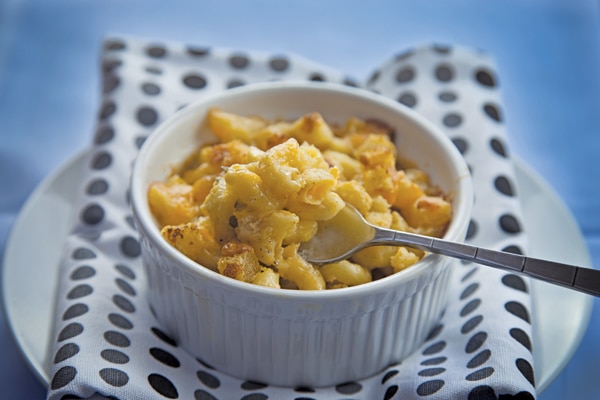 Ah, Macaroni and Cheese – quite possibly the world's best comfort food. If your only encounter with it has been by way of the blue box, this recipe could very well change your life, your lover's life, your friends' livrs and they will all love you forever! Oh! Never mind, I'm in Mac heaven!
Ingredients
for the topping:
2 slices good white bread (preferably sourdough), crusts removed, cut into ¼ to ½ inch pieces
1 cup sharp cheddar cheese, grated
3 tablespoons Parmigiano cheese, grated
1 teaspoon dried parsley or basil leaves
2 tablespoons butter, melted
for mac and cheese:
1 cup elbow macaroni
6 tablespoons butter
3 tablespoons all-purpose flour
2 cups 2% milk
½ cup heavy cream
2 teaspoons ground mustard
2 teaspoons Worcestershire sauce
¼ teaspoon ground nutmeg
¾ teaspoon sea salt
½ teaspoon ground black pepper
2 cups sharp cheddar cheese (white, yellow or a mixture of both), grated
½ cup Fontina cheese, grated
½ cup Parmigiano cheese, grated
Directions
Fill a large saucepan with water, salt it and bring to a boil. Add macaroni and cook for 2 minutes less than directed on package. Drain in a colander.
make the topping:
Preheat your oven to 375 degrees. Butter six 1-cup oven-proof baking dishes (or one 2 qt. baking dish); set aside.
Place the bread, cheddar, Parmigiano and parsley in a medium bowl. Pour in 2 tablespoons melted butter and toss. Set the bread crumbs aside.
make the sauce:
Melt butter in a large saucepan over medium heat. When butter bubbles, add the flour. Cook, stirring 1 minute. While whisking, slowly pour in milk and cream. Whisk until the mixture is thick and bubbly and coats the back of a spoon. Remove pan from heat. Stir in mustard, Worcestershire, nutmeg, salt, pepper and cheeses until smooth; set cheese sauce aside.
Stir cooked macaroni into the cheese sauce. Spoon mixture into prepared dishes. Sprinkle topping evenly over macaroni; bake until golden and bubbling 15 to 20 minutes.
Serves 6 as a starter or 4 as a main course
Recipe hint
Fontina is a rich, semisoft cheese with a nutty flavor and faint sweetness, it marries well with the other cheeses in this mac and cheese.
Variation
Substitute Panko bread crumbs for the bread slices. Approximately 2 cups.
©Copyright My Tiny Alaskan Oven