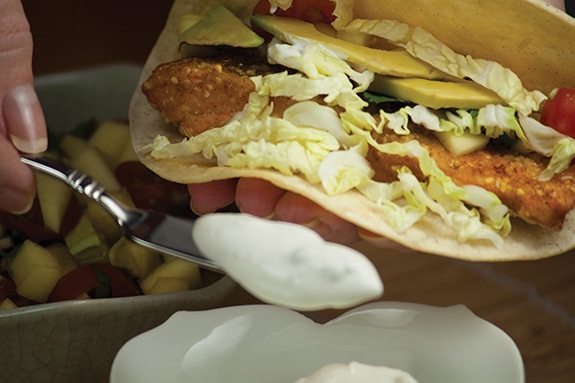 These delicious and easy Oven Roasted Fish Tacos with Mango-Avocado Salsa are a big part of our summer rotation! You'll love how quickly they go together.
Ingredients
for the mango-avocado salsa:
1 ripe mango, peeled and diced
½ cup cherry tomatoes, halved
½ cup cucumber, diced
¼ cup red onion, minced
2 teaspoons jalapeño seeded, minced
1 teaspoon sugar
¼ teaspoon salt
¼ teaspoon ground cumin
juice of one lime
1 ripe avocado, pitted, peeled, thinly sliced
3 tablespoons fresh cilantro, chopped
for the creamy jalapeno sauce:
¼ cup sour cream
¼ cup mayonnaise
2 teaspoons sugar
2 teaspoons jalapeño seeded, minced
1 teaspoon lime juice
4 (4-ounce) wild salmon fillets, skin and pin bones removed. Sliced into strips
¼ cup lime juice
¼ cup all purpose flour
⅓ cup yellow cornmeal
1 teaspoon chili powder
½ teaspoon salt
⅛ teaspoon cayenne
8 (7-inch) corn tortillas
3 cups cabbage, shredded
Directions
the mango-avocado salsa:
Combine the mango, tomatoes, cucumber, onion, jalapeño, sugar, salt, cumin and lime juice in a large bowl. Let stand 10-15 minutes to blend flavors. Before serving, gently stir in avocado and cilantro.
the creamy jalapeno sauce:
Stir all ingredients together in a small bowl and adjust seasonings to taste. Let stand a few minutes to allow flavors to blend. Keep chilled until ready to serve.
Preheat the oven to 425°F. With racks on the top and bottom levels.
Marinate the salmon fillets in lime juice for 5 minutes. Place 2 baking sheets in oven, one on each rack and preheat 5 minutes.
Combine flour, cornmeal and seasonings in a shallow dish. Coat fillets on both sides. Carefully remove the top pan from the oven and spray with nonstick spray. Place fillets on pan and bake for 5 minutes. Spray both sides of tortillas with nonstick spray. Oven-toast tortillas on the second baking sheet after turning the fillets over. Toast tortillas 2 to 3 minutes. Remove fillets and tortillas from the oven.
To make tacos, fill tortillas with shredded cabbage, fish and mango salsa. Drizzle with jalapeño mayonnaise. Serve right away.
Makes 4 servings
©Copyright Salmon, Desserts & Friends